Mount Batur is one of an active volcano located in kintamani distric, Bangli regency, Bali. During the hindu believe Mount Batur is second holy montain in province of Bali. It is with elevations 1717 meters above sea level. On top of  this volcano will see the jet white steam pupping up from the hole. It has 5 craters with total 26 times exploud
In 1926 this volcano had massive erupted which made more than 1000 people killed and destroyed the village called village Batur. the villagers who are still life move to higher place to get safier . Then on year 1963 other eruptions with the black lava fluw down. The last explosions of mount batur was 2000, eighteen years ago from the youngest crater. Most people all over the world visit mount batur to do the Mount batur sunrise trekking, it is an adventure early morning that is worth the time and phisichal effort. most the traveler said that the mount batur trekking is most of bali highliht trip like wanderlust chloe  experience on mount batur trekking. she had really amazing day on mount batur trekking trip.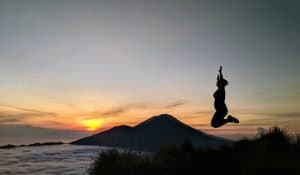 Mount Batur Sunrise trekking
The journey begin with pick up from hotel arround 02:30 am for ubud area (it is depends on where you staying) then drive to mount batur trekking starting point. On the base camp you will meet the local guides who are lead you up. They will provide you torches or stick and short briefing bout the trek. To do the hike in mount batur it takes appox 2 hours to get the peak. During your walk you will passing trough the local villagers. Walking further you will see the tomatos, onions, chilis etc of their traditional farm. You might also find the traditional old temple called tampuriang temple. Step by steps continue the trip then onto the rain forest.
The fresh mountains air with the torches and the litghtening of moon and stars made the journey very special. After long way walk finaly get the top. The scenery of sky turns and changing colors from dark to yellow to inky and red . the majestice view of sunrise with lake batur, mount abang, mount agung and mount rinjanji in lombok is worthy of the hard of climb. The tea and coffee serve with banana and eggs cooked on volcanic steam are little things to help your energy back.
After the sunrise, continue the trip to walking along side on crater rim. Here you will see the mountains far away in java on the clear day. Fesel your pace on the volcanic steam. Walking trought to visit the main crater where you will meet hunreds of wild monkeys. You can feed them also can take photos selfie with the bali friendly monkey.
Mount Batur Dificulty
The level of mount batur trekking is level moderate but the place of where you start to hike is made the deferent about Mount Batur Dificulty and experiences it self.
Pura jati it is located in near by of pura jati temple here you will see hundreds of poeple climb of on the sae time. The way it self is rocky and little bit stipe. On few steps it is even hard for people who are fisrt trekking experience
Toya bungkah is about 20 minutes from pura jati starting point. On this place is much lest people to hiking up the volcano. Here the way it is aeasier and suitable for beginer and first time trekking even for 10 yerars old. On toya bungkah also you get the place whereyou can enjoy the mount batur natural hot spring.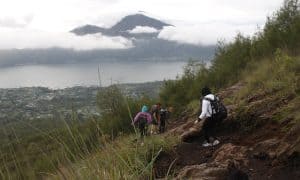 Mount Batur Dificulty
Mount Batur Trekking Price
the price of mount batur trekking would be deferent base on:
if you are in ubud area you will notice they are so many agencys offering the mount batur sunrise trekking. you might get cheaper price with ubud sharing trekking. sharing means you will share the trip, car and guide with other people. sometimes you will get pick up even late because they are have to pick up from many hotels on deferent place.
Most of the agencys who are have higher quality of service and experiences with their guides and staf would offer more expensive prices
| | | |
| --- | --- | --- |
| Programme | sharing tour |  private tour |
| price | US$ 30-35 | US$ 50-60 |
Mount batur with natural hot spring
finishing your hike in Mount batur is not complete without visiting the Natural hot spring. it is real hot water come from the mount batur volcano. the heat of this water will help you to recharge your energy from the trek. also it is really good to sore your muscle. it is known as one of the healing spa in Bali. just add US$ 14 from the trekking price you will enjoy this tour.
Toya devasya natural hot spring
what should you bring:
walking shoes, wear proper sport or walking shoes is important. some part of mount batur is sleppery and rocky good shoes would be help much.
jacket and long pants on the way up you will feel good with t sirt and short pants but when you get the top by the time you enjoy the sunrise would be cold
camera. take a beautiful scenery and made memories of your trip in mount batur
some cash on the top there are some coffee shops sheling hot drinks, you might want to buy one! if you do the trip with private tour might be they also provide breakfast serve with hot drink
enought bottle water
some snacks or fruit
we invite you to joint us to discovering mount batur just check here for diteails trip of Mount Batur sunrise trekking